Dimensional Tour
Film information

Directed by

Zia Bhucker

Produced by

Samuel Merritt

Written by

Zia Bhucker
Monroe Boyce
Liz Ruttger

Music by

Lorne Balfe

Editing by

Burton Massam

Studio

Bhucker Films
Rubix Entertainment

Distributed by

Universal Picture

Release Date(s)

November 22, 2013

Running time

98 minutes

Language

English

Budget

$14 million

Gross Revenue

$69,140,694
Dimensional Tour is a 2013 American Flash-animated adventure comedy-drama film written and directed by Zia Bhucker and produced by Rubix Entertainment and Bhucker Films. The film stars Cody Simpson as Carson Peter Beck "Chuck B", an ordinary pre-teen who is fired from his role in the pop band K.O.L. for an unexplained reason. One day, a demon named Chufuuz who claims the form of a re-colored Chuck haunts his bedroom and kidnaps the members of K.O.L. to use as slaves. Chuck dares to bypass his strict father's rules to rescue the band members and stop Chufuuz from taking control over his world.
The film was released by Universal Pictures on November 22, 2013. It was released on Blu-ray Disc and DVD on February 18, 2014. It received generally positive reviews from critics.
TBA
Marketing
Edit
Soundtrack
Edit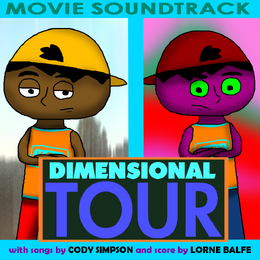 The soundtrack album was available on the Rubix Records label on December 3, 2013. It contains original score by Lorne Balfe, with songs by a wide range of artists, especially Cody Simpson.
Turn-On - Cody Simpson
Have Me Love - Cody Simpson
Now or Never - Camryn
Happy Lil' Hippie - Cody Simpson
Take My Heart - Greyson Chance
So Proud to Be Alive - Cody Simpson
Summer Eyes - Cody Simpson
Touch Her Fire - Iwxo
Way Back Home - Action Item
Chuck and the Wild Ride - Lorne Balfe
You Can't Open This - Lorne Balfe
Parallel Adventure - Lorne Balfe
There's No Other Alternative - Lorne Balfe
HI-YAH! - Lorne Balfe
Ad blocker interference detected!
Wikia is a free-to-use site that makes money from advertising. We have a modified experience for viewers using ad blockers

Wikia is not accessible if you've made further modifications. Remove the custom ad blocker rule(s) and the page will load as expected.