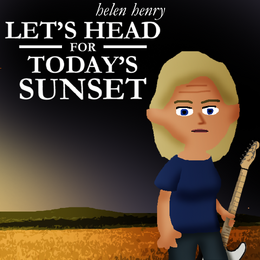 This page is old.


This page has been marked old because the person who created the page has decided not to delete it, but rather to leave it alone. Feel free to read on, but be advised that the page is no longer associated with the rest of the wiki's content.
Let's Head for Today's Sunset is the second studio album by American country singer Helen Henry, released in the United States on October 17, 2000 by Rubix Records. The album includes two singles which were released to country radio: "Shooting Stars" and "You're Just the One for Me".
Track listing
Edit
We're Runnin' Late Today
Shooting Stars
Tell Me What's Wrong
Every Conversation I Have
You're Just the One for Me
The Way I've Been Treated
Stuck at the Bottom
Innocent Little Girl
Damn Incredible
If It Weren't for You
Call It Love
While We're Still Together
Shooting Stars (September 12, 2000)
You're Just the One for Me (February 20, 2001)
Ad blocker interference detected!
Wikia is a free-to-use site that makes money from advertising. We have a modified experience for viewers using ad blockers

Wikia is not accessible if you've made further modifications. Remove the custom ad blocker rule(s) and the page will load as expected.