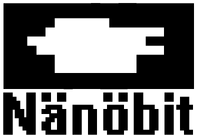 Nänöbit is an artist collective, open source label, netlabel, and an ad-supported music streaming service, founded in 2010 by Caramel Factory members Dan Harris and Adam Robinson. The establishment of the label marked production of their second EP More Than You Can See.
It's owned by Rubix Records.
Ad blocker interference detected!
Wikia is a free-to-use site that makes money from advertising. We have a modified experience for viewers using ad blockers

Wikia is not accessible if you've made further modifications. Remove the custom ad blocker rule(s) and the page will load as expected.