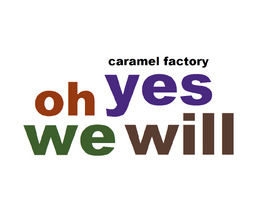 Oh Yes We Will is the third studio album by American alternative experimental rock duo Caramel Factory. It was released by Rubix Records on April 10, 2012 as a 23-track double album consisting of two discs; the first disc "Oh Yes" contains funkcore songs, and the second disc "We Will" contains electronic rock songs.
Track listing
Edit
Disc 1: Oh Yes
Edit
Oh Yes We Will (Fast Version)
Combustion
Rock Remaster
Stressed Out
Procrastinate
Made It to the Edge
Beatles & Submarines
Welcome Back
Meals
Dig Deeper
Backmasked
The Feature
Disc 2: We Will
Edit
The Punies Are Outnumbered
Big Bang (Prepare Yourselves)
Transformation Begins... NOW!
No More
Glance/Turn/Run
Off
Futuropolis
Dream Big, My Friend
Oh Yes We Will
Vinyl Record
Silence
Ad blocker interference detected!
Wikia is a free-to-use site that makes money from advertising. We have a modified experience for viewers using ad blockers

Wikia is not accessible if you've made further modifications. Remove the custom ad blocker rule(s) and the page will load as expected.