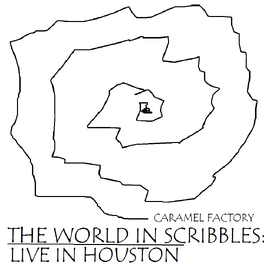 The World in Scribbles is a 2011 live compilation album performed in Houston, Texas by Caramel Factory. The album, released by Rubix Records on May 10, 2011, contains a number of previously recorded songs, along with new ones.
The first half of the album's tracks was recorded on November 29, 2010, and the other half was recorded on December 12, 2010.
Track listing
Edit
Intro / Hello Bozo / Reality
Scratch / Star Wars
Caramel Feast / Let's Wear Stripes Today
The Great Spill / Float N' Fly / King of Magnificence
Into the Vanishing Point / Welcome to the Event
3:14 / Mass x Density
Do You Love It? / March
Epilogue / Closing
Ad blocker interference detected!
Wikia is a free-to-use site that makes money from advertising. We have a modified experience for viewers using ad blockers

Wikia is not accessible if you've made further modifications. Remove the custom ad blocker rule(s) and the page will load as expected.